Doors
Offering the same u-PVC  vinyl technology as our vinyl window product line and featuring reinforced sashes, steel fortified frames, and a heavy-duty locking system, our doors are as durable as they are attractive. Our doors won't split, rot, warp, chalk, or rust when exposed to the element. There's no painting, staining, caulking, or changing storms and screens - helping you save time, money, and energy!

Select a window type below to view our product lines, color options, grid styles, window shapes, and more!
Patio Doors
Our patio doors contain a moving sash that slides back and forth and are available in two-, three-, and four-panel configurations.

French Doors
Our french doors are set of two swing doors that hinge in the outside corners.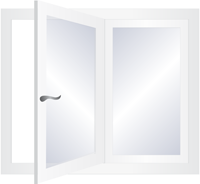 Terrace Doors
Our terrace doors are hinged in the middle with one side fixed and the other swings open and closed.